Cloud ear fungus (Auricularia polytricha, syn. Hirneola polytricha) is an edible jelly fungus.
It grows on trees in mountainous regions, is gray-brown in color, and is often used in Asian cooking, especially Chinese cuisine.
'
Fruit body resupinate or pileate, loosely attached, laterally and sometimes by a very short stalk, elastic, gelatinous; sterile surface dark yellowish brown to dark brown with greyish brown bands, hairy, silky.
Hymenium smooth, or wrinkled, pale brown to dark brown to blackish brown with a whitish boom.
Hairs thick-walled, up to 0.6 mm long. Basidia cylindrical, hyaline, three-septate, 46–60 × 4–5.5 μm with 1–3 lateral sterigmata; sterigmata 9–15 × 1.5–12 μm. spores, hyaline, reniform to allantoid, 13–16 × 4–5.5 μm, guttulate.
Auricularia polytricha is usually sold in dried form, and needs to be soaked in water before use.
While almost tasteless, it is prized for its slippery but slightly crunchy texture, and its potential nutritional benefits.
The slight crunchiness persists despite most cooking processes. Auricularia polytricha is coarser than Auricularia auricula-judae, and is more likely to be used in soups rather than stir-fries.
Māori traditionally cooked wood ear fungus by steaming in an earth oven and eating with sow thistle and potatoes.
According to Chinese medicine practitioners, eating dried and cooked wood ear can have health benefits for people with high blood pressure or cancer, and can prevent coronary heart disease and arteriosclerosis.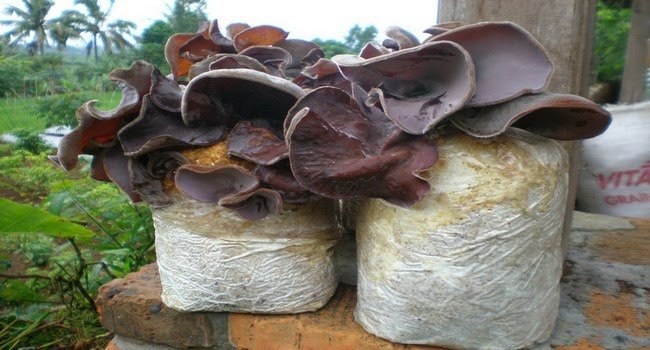 It may also be effective in reducing LDL cholesterol and aortic atherosclerotic plaque, as demonstrated in a study on rabbits.This fungus is used in Cantonese desserts.
A cup of dry cloud ear fungus contains 19.6 grams of dietary fiber.
---------------------------------------------------------------------------------
Biobritte Agro India
-Spawn Supply
-Mushroom supply
---------------------------------------------------------------------------




#

mushroomspawnsupplier

,

#

mushroomtrainingprovider

,

#

mushroomproducts

,

#

oystermushrooms

,

#

reishimushrooms

,

#

milkymushrooms

,

#

biobritte

,

#

kolhapurmushrooms

, #
Flammulina velutipes, #
Enokitake, #pleurotuseryngii, #kingoyster, #drymushrooms, #freshmushrooms, #mushroomexporter,#mushroompurecultures, #mushroomspawn, #
Agaricus bisporus,
#Agaricus bitorquis,
#
Agrocybe aegerita,
#
Volvariella volvacea,
#
Auricularia polytricha,
#
Calocybe indica,
#
Macrocybe gigantea,
#
Schizophyllum commune,
#
Lentinula edodes,
#
Morchella conica,
#
Pleurotus sajor-caju,
#
Pleurotus flabellatus,
#
Pleurotus sapidus,
#
Pleurotus ostreatus,
#
Pleurotus eryngii,
#
Pleurotus djamor var roseus,
#
Pleurotus florida,
#
Pleurotus citrinopileatus,
#
Pleurotus cornucopia,
#
Flammulina Velutipes, #cordyceps, #lionsmane, #ganoderma, #morel, #blackmorel